Through a centralised body, ScaleUpVic will create bespoke packages to support small businesses. Our wide membership enables us to respond to specific requests with a group of organisations best suited to addressing a particular need. We fully cover all the functional and demographic needs of small businesses from initial concept through to start up and scale up.
Areas of expertise:
Goal setting
Strategy
Finance
Mentoring
Training and Certificate level education
Legal
Intellectual property
Mediation
Networking
Digital
Marketing
Taking to market
Innovation
Scale up
Programs for specific demographics
Agriculture
Women in business
Young entrepreneurs
Migrants
Regional
ScaleUp is designed to deliver for the sector in many ways.
As a Tender group
ScaleUpVic brings to a tender all the best organisations in the field. Regardless of what is being sought from the tender, ScaleUpVic will bring together the right group of consortium members to meet the Tenderers needs. Whether the Grant is for Metropolitan, Regional or both, ScaleUpVic can put together a team that can deliver.
As a business support network
ScaleUpVic is already delivering support to the SME sector across the State. Every year
over 5000 mentoring sessions are being delivered.
Networking events in Metropolitan and Regional areas are taking place every month
Businesses are accessing, FREE or low cost assistance on legal, patents, I.P. protection, Innovation, Access to finance, Grants and so much more.
For the first time ever, all of this will be available through the one group acting as a gateway to all of these services.
As a contractor
Our two lead organisations, the Small Business Mentoring Service (SBMS) and The Small Business Institute (TSBI) already offer support across the State.
With the addition of the new consortium members, businesses will be able to speak with their Mentor to gain access to a whole new range of services and activities.
Some of the planned services that are coming soon include: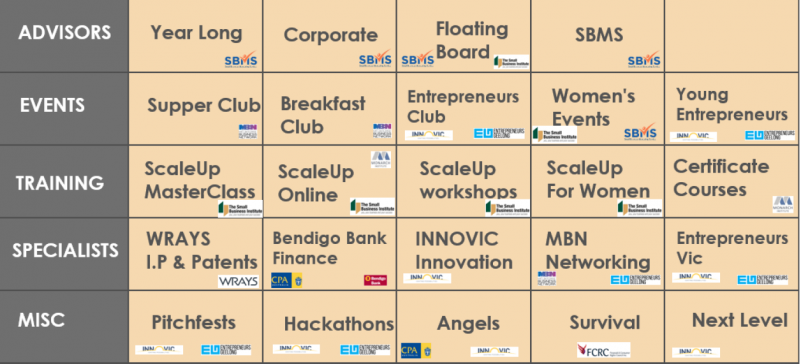 How will it all work?
From the perspective of an organisation that wishes to join the consortium, it couldn't be easier. There is no cost involved, just a commitment. A ScaleUpVic member organisation must:
Offer a FREE or extremely low cost first point of access
Be able to offer ongoing support
Provide access to advice, tools or templates aligned to their sector
Be available to be part of a consortium mix seeking to tender for a contract within an identified area.
Not apply or be part of an alternate group applying for the same tender
Provide their Logo and business details for use on the ScaleUpVic website, applications and collateral